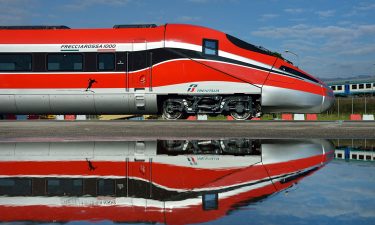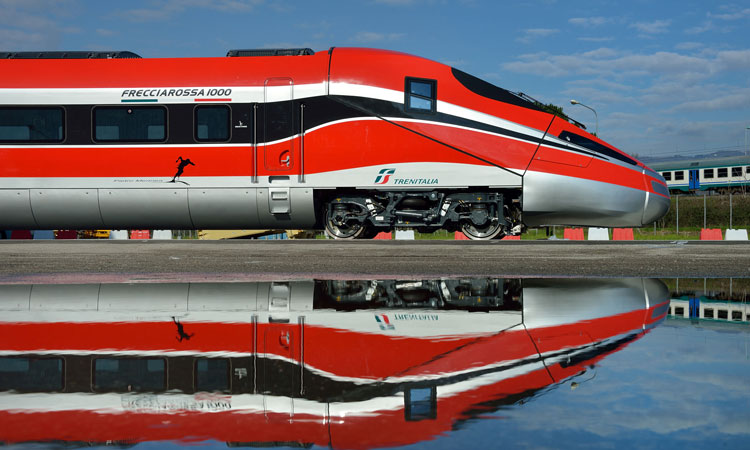 The 10-year partnership has resulted in a transformational train and has set new standards in comfort, reliability and its positive economic benefits. It has had such an impact that the ETR 1000 - named Frecciarossa 1000 by Trenitalia, or 'Red Arrow' in English - is a key benchmark for new high-speed fleets in the UK and across Europe.
The partnership began in 2010, when Hitachi and Bombardier confirmed their joint venture to build 50 trains for Italy's largest operator Trenitalia in a €1.54 billion deal. At an early stage Hitachi and Bombardier formed a single, integrated engineering team to lead the design work, while manufacturing is centred in Hitachi Rail'sPistoia factory, near Florence.
The ETR 1000 has been designed and manufactured to travel on the main European railway networks. Its popularity means it has seen two further orders. The recent announcement of an €797 million order from Trenitalia will see 23 trains - operated by independent Spanish train operator Intermodalidad de Levante SA (ILSA) - connect key Spanish cities, including Madrid, Barcelona and Seville. Combined with a follow-on order from Trenitalia for 14 trains, including maintenance services, valued at €575 million, will take the total number of high-speed trains to 87.
The key features of the ETR 1000 include:
The ability to reach speeds of 400km/h
Up to four travel classes, including an executive meeting room
Capacity for 460 passengers in the 200m-long train, which can run in dual formation
Highest environmental standards - it is the quietest very-high-speed train and the electric power it draws produces just 24 micrograms of carbon per passenger km
Integration with the latest European Traffic Control System (ETCS) signalling systems.
Its technical success has allowed it to transform train travel between Italy's densely populated major cities since it entered service in June 2015. Journey times have been cut dramatically and the fleet has helped transport 350 million people on Trenitalia's high-speed services in 10 years from 2009-2019. The service has boosted jobs and economic growth and has increased the proportion of journeys on the key Milan-Rome route made by train by 7.4 per cent (pre-COVID-19).
Nick Hughes, Sales Director, Hitachi Rail said: "The ETR 1000's success is a fantastic testament to our joint venture and partnership with our customers. Using our combined expertise, the high-speed train is setting the standards for across Europe. Our aspiration is to do more and continue to advance high-speed train technology and the benefit they can offer passengers around the world."
Des McKeon, VP Sales UK & Ireland, Global Head of Regional & Intercity, Bombardier Transportation, said: "Our tried and tested joint venture means we've been able to work in partnership to expand the benefits of the ETR 1000 fleets, beyond Italy to France and Spain. The reliability and flexibility of the platform has proven it can transform travel in different markets. High-speed is increasingly popular across the world and we're excited about the opportunities in UK and elsewhere."
© Russell Publishing Limited, 2020. All Rights Reserved., source Trade Journals