Marion, North Carolina--(Newsfile Corp. - July 2, 2020) - Greene Concepts Inc. (OTC PINK: INKW) is thrilled to celebrate the recent grand opening of the Santa Rosa Band of Cahuilla Indians' Pit Stop gas station and convenience store located in Mountain Center, CA. As noted in the previous March 25, 2020 company press release, Greene Concepts recently signed a purchase order agreement with the Santa Rosa Pit Stop and currently selling its' BE WATERTM brand at that location.


To view an enhanced version of this graphic, please visit:
https://orders.newsfilecorp.com/files/6717/59028_556fad4a04f5a862_002full.jpg
The Santa Rosa Pit Stop manager Ray Suarez states, "We are very proud of our recent grand opening of the Santa Rosa Pit Stop that occurred Wednesday, June 3. We are also planning a larger celebration for later in the year. The June 3 grand opening ceremony was live streamed to maintain safe social distancing guidelines (see the YouTube live stream channel below to see a recorded video of the event). We are elated about this newest addition for our community and pleased to showcase and sell BE WATERTM as a premium beverage through our location. As mentioned in the previous press release, Greene Concepts through its BE WATERTM line captures our native spirit and strength morally, ethically and operationally."


To view an enhanced version of this graphic, please visit:
https://orders.newsfilecorp.com/files/6717/59028_556fad4a04f5a862_003full.jpg
Santa Rosa Pít Stop Grand Opening

Cannot view this video? Visit:
https://www.youtube.com/watch?v=09AtxYqX9Q0
Harold Wingert, CEO of Sunflower Consulting Group highlights, "There are wonderful growth and expansion opportunities for both the Santa Rosa Pit Stop and Greene Concepts. The Santa Rosa Band of Cahuilla Indians' Pit Stop meets an important local need by providing resources to commuters and financial assets for the local residents. Through this collaboration, we continue to stay on target for the continued sale of up to two million cases of BE WATERTM at $7.00 per case through the end of the year toward a valuation of $14 million. The progressive sale of BE WATERTM at the Santa Rosa Pit Stop benefits both companies long-term."
Lenny Greene, CEO of Greene Concepts conveys, "We are honored to partner with the Santa Rosa Band of Cahuilla Indians' Pit Stop and I plan to join them in a face-to-face celebration down-the-line once the current national health crisis improves. Their success is Greene Concepts' success and we are very appreciative to sell our BE WATERTM brand at this choice location. The Santa Rose Pit Stop has set aside a dedicated cooler inside their store exclusively for our BE WATERTM products. This beverage cooler contains a 1920 X 1080 plasma television screen mounted above it to showcase our company's logos and videos on a continual advertising loop to maximize awareness and to set it apart from other brands. As we grow as a company, we plan to do everything possible to help expand the awareness and overall sales of the Santa Rosa Pit Stop while continuing to honor them as our first retailer."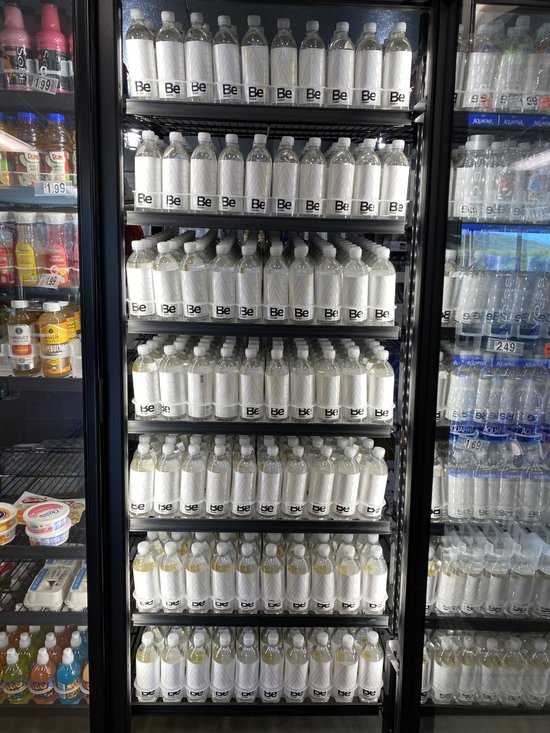 BE WATER in Beverage Cooler

To view an enhanced version of this graphic, please visit:
https://orders.newsfilecorp.com/files/6717/59028_greene2.jpg
Local Newspaper Desert Sun Write-up:
Santa Rosa Pit Stop Grand Opening Write-Up by the Desert Sun
About the Santa Rosa Pit Stop:
The Santa Rosa Pit Stop, LLC gas station and convenience store is owned and operated by the Santa Rosa Band of Cahuilla Indians. It is located right off of the Palms to Pines scenic highway and near the Pacific Crest Trail. The grand opening occurred on Wednesday June 3, 2020.
Address:
65145 Highway 74
Mountain Center, California 92561
(951) 659-1221
https://www.facebook.com/Santa-Rosa-P%C3%ADt-Stop-107838174275949/
About Santa Rosa Band of Cahuilla Indians:
The Santa Rosa Indian Reservation is in Riverside County, between Palm Springs and Anza, and occupies 11,021 acres of land. The Reservation is composed of four non-contiguous parcels; the largest being in the area of Sew'ia, or New Santa Rosa (Vandeventer Flat) where residents of the Reservation reside. The three remaining parcels, which include Toro Peak where the Tribe operates a telecommunications relay station, are located east of the main parcel. Elevation ranges from 4,200' elevation at Sew'ia (Cahuilla name for "New" Santa Rosa) to 8,700' elevation at Toro Peak. Currently, there are 139 recognized Tribal Members (18 and over). Approximately 70 individuals live on the Reservation. The General Council (which consists of adult members 18 years of age and older) elects a Tribal Council for two-year terms. The Tribal Council consists of a Chair, Vice-Chair, Secretary, Treasurer and three Council members. The people of Sew'ia are one of eight Cahuilla Bands which include Cahuilla, Ramona, Los Coyotes, Torres-Martinez, Augustine, Cabazon, Agua Caliente, and Morongo. The Santa Rosa Reservation was established on February 2, 1907, under authority of the Act of 1891 as amended. The Act of April 17, 1937 authorized the Secretary of Interior to purchase 640 acres to be held in trust for the Tribe. All reservation land is tribally owned and un-allotted, though some of the land is under assignment and has been passed from generation to generation.
https://santarosacahuilla-nsn.gov/
About Sunflower Consulting Group:
Sunflower Consulting Group (SCG), founded by Harold Wingert, specializes in all aspects of convenience store operations: consulting, store design, operational set up and ramp up, controls, inventory, and vendor contracts. Since 1985, when Mr. Wingert bought his first store, he has been engaged in the industry in some fashion, including operations, consulting, construction, and design. Over the last 34 years he has owned and operated 8 stores, successfully sold them, and has been consulting for the past decade. SCG has the team in place to provide the level of support you desire, from concept design, through opening the store, and establishing policy and procedures. SCG will work with vendors to achieve optimal sales and manage vendor contracts to take advantage of rebates or other incentives, which will result in more profits for ownership. SCG will assist ownership in hiring and training employees, continuing education, benefits package for management, and will assist in developing an employee manual. Sunflower Consulting Group looks forward to working with you to bring your concept to reality.
https://sunflowerconsultinggroup.com/
About Greene Concepts, Inc., Mammoth Ventures, Inc. and Water Club, Inc.:
Greene Concepts, Inc. (http://www.greeneconcepts.com) is a publicly traded company. Through its recently acquired wholly owned subsidiary, Mammoth Ventures Inc., the Company has entered the specialty beverage and bottling business and is an emerging leader in the global scientifically formulated beverage industry. Through its subsidiary Water Club, Inc. we intend to pursue subscription-based delivery of water and scientifically formulated beverages directly to the consumers home and market the convenience of this service thru social media affiliate marketing partners.
Safe Harbor: This Press Release contains forward-looking statements within the meaning of Section 27A of the Securities Act of 1933 and Section 21E of the Securities Exchange Act of 1934. These forward-looking statements are based on the current plans and expectations of management and are subject to a number of uncertainties and risks that could significantly affect the company's current plans and expectations, as well as future results of operations and financial condition. A more extensive listing of risks and factors that may affect the company's business prospects and cause actual results to differ materially from those described in the forward-looking statements can be found in the reports and other documents filed by the company with the Securities and Exchange Commission and OTC Markets, Inc. OTC Disclosure and News Service. The company undertakes no obligation to publicly update or revise any forward-looking statements, whether as a result of new information, future events or otherwise.
CONTACT:
Greene Concepts, Inc.

Investor Relations
info@inkway.com
Lenny Greene
lenny@greeneconcepts.com
559-434-1000
To view the source version of this press release, please visit https://www.newsfilecorp.com/release/59028