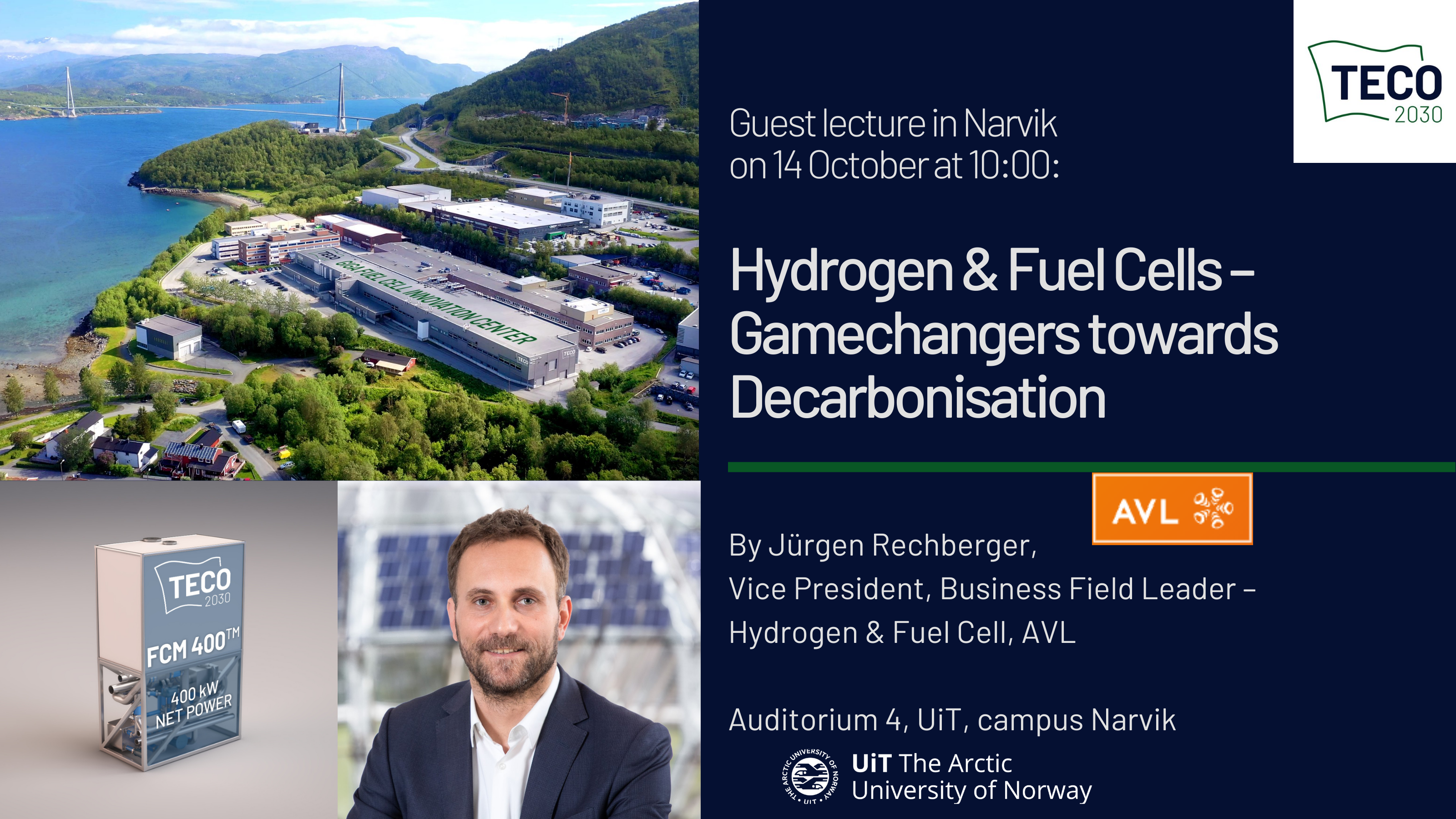 TECO 2030 is organising a guest lecture at UiT The Arctic University of Norway, campus Narvik on 14 October with Jürgen Rechberger from Austrian powertrain technology company AVL. If you're in the area then, do not miss out on this chance to learn all you need to know about hydrogen fuel cells!
Jürgen Rechberger, Vice President and Business Field Leader – Hydrogen and Fuel Cells at AVL will give a guest lecture in auditorium 4 at UiT Narvik, on Thursday 14 October, from 10:00-11:00. Participation is free of charge and everyone who is interested is welcome.
Rechberger is a world leading expert in hydrogen fuel cells and is together with his team at the Austrian powertrain technology company AVL developing fuel cell technology in cooperation with TECO 2030 for the TECO 2030 Marine Fuel Cells.
Rechberger has been working at AVL for the past 18 years and has a background in industrial engineering from TU Wien.
Breakfast seminar in Narvik on 14 October
On 14 October, TECO 2030 will also participate at a breakfast seminar organised by Futurum AS, the business company of Narvik municipality.
The event will take place in Norwegian and will focus on how hydrogen fuel cells can be used to reduce emissions at construction sites. Please click here for more information.
TECO 2030 is cooperating with the infrastructure contractor Implenia Norway on developing and piloting hydrogen-powered solutions that will eliminate emissions at construction sites. By switching to fuel cells, applications that currently get their energy from diesel engines or diesel generators can use hydrogen instead of fossil fuels and become emissions-free.
The engine of tomorrow
Hydrogen fuel cells are the engines of tomorrow and convert hydrogen into electricity while emitting nothing but water vapour and warm air.
The TECO 2030 Marine Fuel Cells will be produced at the TECO 2030 Innovation Center in Narvik, which will become Norway's first large-scale production of hydrogen fuel cells.
TECO 2030 took over the building that will become home to the new plant this summer and is together with AVL now in the process of making detailed plans for how the factory and its production lines will be.
Designed for ships and other heavy-duty applications
The TECO 2030 Marine Fuel Cell is the first fuel cell system in the world that is specifically designed for use onboard ships and on other heavy-duty applications.
By exchanging one or more of their engines with a TECO 2030 Marine Fuel Cell, ships can switch from fossil fuels to hydrogen and reduce their emissions to zero. They can then sail emissions-free either on the whole journey or on shorter distances, such as when sailing into and out of ports.
Hydrogen fuel cells can also be used during port-stay, loading and discharging, enabling zero-emission operation at berth, without having to connect the ship to an onshore power supply.
TECO 2030 has received an "Approval in Principle" (AiP) by DNV, one of the world's leading classification and certification bodies, for its Marine Fuel Cell System and its Fuel Cell Module FCM400, confirming that these are safe to use onboard ships.
For more information, please contact:
Tore Enger, CEO of TECO 2030 ASA. +47 920 83 800, tore.enger@teco2030.no
About AVL:
With more than 11,000 employees, AVL is the world's largest independent company for development, simulation and testing in the automotive industry, and in other sectors. Drawing on its pioneering spirit, the company provides concepts, solutions and methodologies to shape future mobility trends. AVL creates innovative and affordable technologies to effectively reduce CO2 by applying a multi-energy carrier strategy for all applications – from hybrid to battery electric and fuel cell technologies. The company supports customers throughout the entire development process from the ideation phase to serial production. To accelerate the vision of automated and connected mobility AVL has established competencies in the fields of ADAS, autonomous driving and digitalization. AVL's passion is innovation. Together with an international network of experts that extends over 26 countries and with 45 Tech- and Engineering Centers worldwide, AVL drives sustainable mobility trends for a greener future. In 2020, the company generated a turnover of 1.7 billion Euros, of which 12% are invested in R&D activities. The company was founded in 1948 with the headquarters in Graz, Austria.
About TECO 2030
TECO 2030 aims to contribute to the green transition in the maritime sector by delivering technology that helps ships to reduce their environmental and climate impacts. TECO 2030 is developing hydrogen fuel cells that enable ships and other heavy-duty applications to become emissions-free. The company is also developing other solutions that can help the maritime industry to reduce its emissions, such as exhaust gas cleaning and carbon capture systems for ships. TECO 2030 was founded in 2019 and is headquartered at Lysaker, Norway. The company is listed on Euronext Growth on Oslo Stock Exchange under TECO. TECO 2030 has its roots in the TECO Maritime Group, a group that has provided technology and repair services to the global shipping industry since 1994. For more information, please visit www.teco2030.no.
© NTB Norway, source NTB English Press Releases