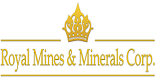 Royal Mines And Minerals Corp. is a development-stage company. The Company is focused on the development of mining technologies for the extraction of precious metals, and its primary objectives are to commercially and viably extract and refine precious metals from specific coal (fly and bottom) ash and other leachable assets; use its processes to convert specific ore bodies and coal ash landfills into valuable assets, and joint venture, acquire and develop mining projects in North America. The Company is focusing its business on commercially processing specific coal ash through a process of mechanical attrition, chemical treatments and thermal sintering that exposes extractable gold (the Cholla Process) at its processing and refining plant located in Scottsdale, Arizona (the Scottsdale Facility). It is seeking to enter into joint ventures with third parties who have legal rights to fly ash resources, including landfills.
Vote
Quantity
Free-Float
Company-owned shares
Total Float
Stock A
1
245,199,204
245,199,204
100.0%
0
0.0%
100.0%
| | | |
| --- | --- | --- |
| Name | Equities | % |
| Boston Private Wealth LLC | 200,000 | 0.081% |
| Slatestone Wealth LLC | 0 | - |
Company contact information
Royal Mines & Minerals Corp.
1080 Wigwam Parkway
Henderson, NV 89074
Phone : +1.702.588.5973
Fax : +1.866.381.2090
Web :
http://www.royalmmc.com
Connections : Royal Mines and Minerals Corp